Bullet on a Wire
"One of the best films of '98"
– Los Angeles Times
A prank phone call becomes telephone terrorism when it leads to murder. The caller, played by Jeff Strong (Walls in the City, Glimmer Man), is a telephone salesman and sometime telemarketing 'boiler room' thief. His false report of a positive HIV test administered at a clinic run by his sister, played by Paula Killen (Mad Dog and Glory, Walls in the City), leads a young woman, played by Lara Phillips (Road to Perdition, Kwik Stop), to kill her abusive stepfather. Her ne're-do-well boyfriend, played by David Yow (vocalist for The Jesus Lizard), attempts to cash in on tabloid television's interest in the story. In a whirlwind of unintended consequences, strange opportunities present themselves and a perverse redemption offers itself to the caller.
Special Features include:
Bullet on a Wire, digitally mastered at its original 1.78:1 aspect ratio, enhanced for 16:9 televisions!

Full running audio commentary by director Jim Sikora and actors Jeff Strong, Lara Phillips, Paula Killen, and David Yow!

Behind the scenes prison footage shot by The Jesus Lizard's David Yow!

Exclusive outtake reel!

Extensive photo gallery!

Liner notes by Chris Gore, editor of Film Threat, and Arnie Bernstein, author of Hollywood on Lake Michigan!

Optimal image quality: RSDL dual-layer edition!
Much, much more!

"This grungy little noir is like a lost short story by Jim Thompson"
– Dave Kehr, New York Daily News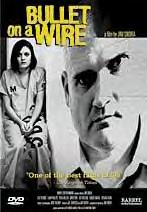 Not Rated | 1998 | Approx. 83 min
B&W | NTSC | Stereo | 1.78:1/16:9

DVD

UPC:
6-90816-60069-5



Preview the New Film by
Jim Sikora:
THE EARL