Michael Ayres eludes categorie in the way he synthesizes musical forms. He expresses a natural feeling on vibes that is rhythmic, alive and atmospheric. As a percussionist his Latin and African influences are strong. As a drummer, rock and funk beats are part of the air he breathes. Heart and soul tie it all together.
"it's music that's reflective, meant for people to ponder a bit. I try to find little areas where people don't usually go, things they often don't look for. I like to express a sort of innocence, moods of pure feeling. Since the instrument itself is so clear sounding, it helps to get that kind of emotion accross."
Michael studied vibes with Gary Burton and Lou Magnano in Boston at the Berklee College of Music in the 70's. During this period his musical compositions for solo vibes began to take shape in a series of tone poems. A few of these sensitive early works are included on this album with new arrangements which include a rich compliment of supporting instruments. That period was a fruitful time for cultivating musical influences and developing expertise on drums and percussion. While playing with groups on Boston's local jazz curcuit, Ayres had an especially rewarding experience performing percussion with the African Ballet productions of Tazwir Abdul Musawir and Muneera Musawir.
In the early 80's Michael returned to his native Chicago where he had previously performed with the James Dutton Ensemble, the Fox Valley Symphony Orchestra, the LaGrange Symphony Orchestra, and in pit orchestras for Chicago area musicals. Since then he has been active with local Chicago groups of a wide range of styles, performing in studio sessions, clubs, and large festivals, most recently with the Cajun Pop group Hurricane Gumbo.
---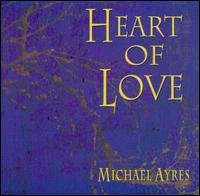 Heart of love
Tracks:
1. Pet Parade
2. Aftertime
3. Aquarian Sunrise
4. Star Ferry
5. Devachian
6. Rotation
7. Pirouette
8. Common Ground
9. In a Silent Way
10. Heart of Love

Illinois Entertainer
'The music takes a turn...when the horns assume the lead on cuts like "Pet Parade", or the sax takes over in "Aftertime", showcasing this commendable new-agey jazz. And if you enjoy the sound of the xylophone, run don't walk..."