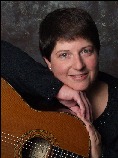 Julie Goldberg


A dynamic, exciting guitarist with a genuine desire to communicate through the music she performs.




Julie Goldberg's debut: Dulce.
What the critics say. In concerts across the United States, Julie has won great acclaim from critics and audiences alike. Here's a smattering of their take on Julie Goldberg:
"Julie Goldberg es un guitarrista magnifica!"
- Manuel Lopez Ramos, Concert Guitarist and Master Teacher
"A wonderful guitarist!"
- First Night Evanston
"A terrific player! Lovely phrasing and tone."
- Columbus Guitar Society
"Such beauty. Such talent....The performance had the high quality we seek."
- Cantigny Concert Series, Wheaton, IL
"A generous performer with superior technique!"
-Clare Callahan, Internationally renowned guitarist and teacher
"Julie Goldberg shows great dedication to and sensitivity for her art.
Her love of music is evident in her lyrical playing."
- Pamela Kimmel, Chicago Musical College
"A superb performer who freed the mind from the technical demands of the guitar....A pleasure to hear."
-Columbus Guitar Society News, Columbus, Ohio
"Her excellent technical and artistic ability made a thoroughly enjoyable performance."
-Washington Guitar Society
What you'll get at a live show. In addition to performing masterworks of the classical guitar repertoire, Julie is dedicated to the exploration of music from this century and has premiered many new works for the guitar. Julie has a specific interest in the music of Manuel Ponce, and traveled to Mexico where she studied original manuscripts of the composer's guitar compositions.
Who Julie Goldberg works with. Julie is an active and versatile recitalist, and has performed in solo and ensemble concerts throughout the United States including concerts in New York, Chicago, Cincinnati, St. Louis and Washington, D.C. She has been featured on the internationally known Dame Myra Hess Concert Series in Chicago and has been nominated to the Illinois and Ohio Arts Council Touring Rosters. Julie Goldberg is currently on the faculty of North Park University, St. Xavier University, and Vandercook College of Music. She has served as a music consultant to the Chicago Public School District and regularly performs as part of the innovative Music in Medicine program at the Evanston Northwestern Hospitals.
Awards and Accolades. Julie Goldberg is the first guitarist to receive a Doctorate in Music Performance from Northwestern University, and also holds degrees from the Chicago Musical College of Roosevelt University and College-Conservatory of Music at the University of Cincinnati. Awards include the WGUC Fine Arts Radio Competition and the Three Arts Award for Music Performance.
Julie has studied guitar under Claire Callahan, Robert Guthrie, Sonia Michelson, Pamela Kimmel and Ann Waller. She has performed in the master classes of Oscar Ghiglia, Manuel Barruecco, Pepe Romero, David Russell and Sharon Isbin, among others.



Sweet Pickle Music