Disc One:

· Directors' commentary tracks for all 11 chapters

Disc Two:

· 1 hour montage of behind-the-scene footage
· Dennis Belogorsky's "Searching for Exquisite" documentary on the vision behind the project
· Promotional Trailer
· Thomas Lisa's music video "Greater Than Us."

2003 / Color / Mature / Approx 95 Min


When the mysterious Iris Peterson arrives at a rundown hotel in Chicago, she seems to have come at the will of some outside force. Soon memories of a perverse family secret put into motion a series of nefarious events that pull a vast array of characters into a web of deadly intrigue.
Dramatic. Hilarious. Disturbing. "The Cliffhanger" defies traditional genres as a first-of-its-kind piece of motion picture art.
Inspired by the Exquisite Corpse concept, The Cliffhanger is an original feature length motion picture collaboration between 11 Chicago improve film production teams. Made in a serial format, the 11-week production process gave each team one week to watch the previous chapters and then add their own installment.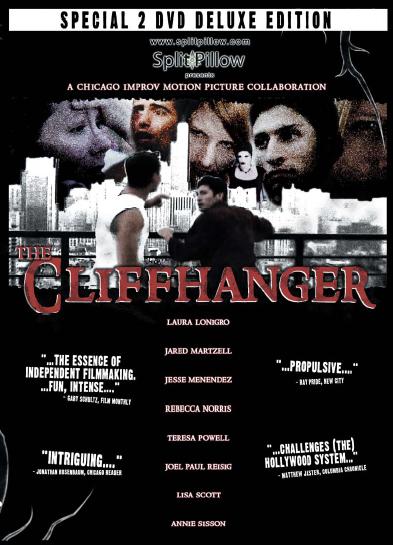 "INTRIGUING. Attractive photography... good acting... striking electronic music"
- Jonathan Rosenbaum, Chicago Reader
"Nice idea... PROPULSIVE"
-Ray Pride, New City
Split Pillow

DVD

Suspense

UPC: 6-17311-67229-3
ISBN: 1-893967-22-0
"The Cliffhanger is the essence of independent filmmaking... FUN, INTENSE"
-Gary Schultz, FilmMonthly.com

Read
Reviews: