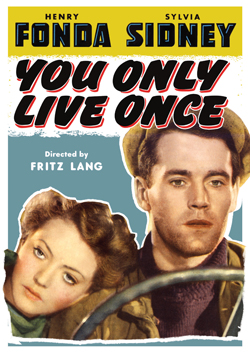 CF 0005
Featuring: Henry Fonda, Sylvia Sidney
Director: Fritz Lang

Year: 1937

Language: English

Length: 86 minutes


Blu-ray
UPC: 851968007057


DVD
UPC: 851968007040
You Only Live Once (1937)
Newly transferred and restored.
First time on Blu-Ray!

Three time loser Eddie Taylor (Henry Fonda) has had enough of life behind bars. Determined to make good after an early parole from prison, Eddie finds devoted sweetheart Joan (Sylvia Sidney) waiting for him as he is released back into society. They soon marry and hope for a bright future together, but Eddie's past confronts him at every turn making it difficult for them to survive.
A haunting masterpiece, "You Only Live Once" was director Fritz Lang's second American effort (after "Fury") and a forerunner to numerous "criminal lovers on the run" films like "Gun Crazy" and "Bonnie and Clyde".
BONUS FEATURES:
Feature length audio commentary by author and film historian Jeremy Arnold.
Restoration Comparison.
Authorized Terriory: USA Only
Available: July 25, 2017