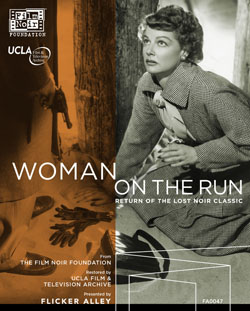 FA 6797
Format: Blu-ray/DVD

Region: All

Director: Norman Foster
Featuring: Ann Sheridan, Dennis O'Keefe

Year: 1950

Language: English

Length: 79 minutes

UPC: 617311679797

Available: May 17, 2016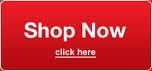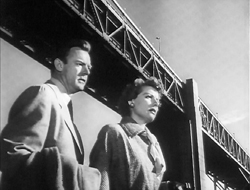 Woman On The Run (1950)

A lost gem rediscovered! Thanks to the efforts of the Film Noir Foundation, this terrific 1950 film noir, the only American print of which was burned in a 2008 fire, has been rescued and restored to its original luster. Join the wild chase around San Francisco as a man goes into hiding after witnessing a gangland execution. Police bird-dog his wife Eleanor (Ann Sheridan), certain she'll lead them to her husband, whose testimony against the killer could bring down a crime kingpin. But Eleanor and her hubbie are Splitsville—she never wants to see him again. When roguish newspaperman Danny Legget (Dennis O'Keefe) charms Eleanor into helping him track down the hidden husband—there are unexpected, stunning, and poignant results. This nervy, shot-on-location thriller is a witty and wise look at the travails of romance and marriage, and perhaps the best cinematic depiction ever of mid-20th century San Francisco.


Bonus Materials Include:
Audio Commentary Track - By author, historian, and "noirchaelogist" Eddie Muller.

"Love is a Rollercoaster: Woman on the Run Revisited" – Produced by Steven Smith and the Film Noir Foundation, this mini-doc offers a look into the making of the film, from script to noir classic.

"A Wild Ride: Restoring Woman on the Run" – Produced by Steven Smith and the Film Noir Foundation, this stranger-than-fiction document of the film's restoration is a thriller in itself.

"Noir City" – A short documentary directed by Joe Talbot about the annual Noir City Film Festival presented by by the Film Noir Foundation at San Francisco's historic Castro Theatre

24-Page Souvenir Booklet – Featuring rare photographs, poster art, original lobby cards, and an essay by the one and only Eddie Muller.