Tribus Futuras (formerly Inga Pirca) was founded by Luis & Susan Alban in 1995. They have performed extensively in the Chicago area for adult and children audiences with organizations such as the International Music Foundation, the Brookfield Zoo, the Old Town School of Folk Music (where they both teach Andean music classes) and Urban Gateways, as well as in the neighboring states, South America and Europe.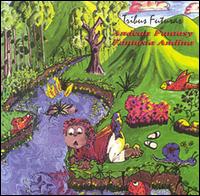 Andean Fantasy
Fantasia Andina
An enchanting children's story of a young boy in the Andes who talks to different elements of nature; a bird, a river, a llama, a volcano-and each element teaches him an important lesson about the environment set to music on Andean Instruments.
This Bilingual Compact Disc includes two complete 30 minute programs, one in English, and a second in Espanol!