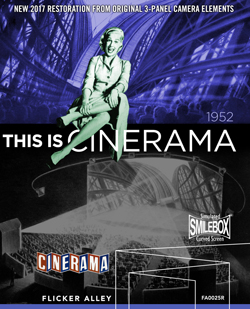 FA 6847
Format: Blu-ray

Region: All

Director: Merian C. Cooper,
Robert L. Bendick
Featuring: Lowell Thomas

Year: 1952

Language: English

Length: 127 minutes

UPC: 617311684791

Available: May 15, 2018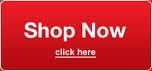 More Cinerama: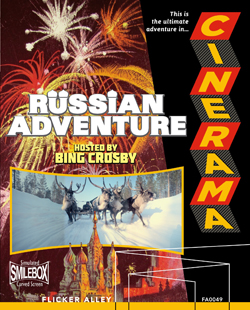 Shop all: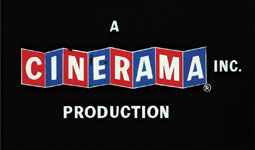 This Is Cinerama - 2017 Authorized Restoration

On the evening of September 30, 1952, This is Cinerama premiered at the Broadway Theatre in New York City. Robert C. Ruark of The New York World Telegram said of the event: "I have just looked at the movies' answer to television, whether or not the movies know it yet." Indeed, this unique, widescreen process was launched when television was deemed a major threat to US film exhibition. Fred Waller, Cinerama's creator, dreamed of a motion picture experience that would recreate the full range of human vision. Using three cameras and three projectors on a curved screen 146° deep, Cinerama created an immersive cinematic event, wowing 20 million viewers in its original roadshow version.
Now, audiences can experience the forerunner to all modern widescreen formats once again in a brand-new definitive restoration. From Venice to Madrid, from Edinburgh Castle to the La Scala opera house in Milan, and all across America in the nose of a B-25 bomber, travel around the world with Cinerama, presented in the one-and-only Smilebox® curved screen simulation.

Bonus Materials Include:
Audio Commentary - With John Sittig (Cinerama Inc.), David Strohmaier (Cinerama Restorer),
Randy Gitsch (Cinerama Historian), and Jim Morrison (original crew member)
The Best in the Biz - An updated hour-long documentary about the composers of Cinerama
Restoring This is Cinerama - A detailed, behind-the-scenes look at the brand-new restoration
Alternate European Opening to Act Two - A European-oriented segue into the second half of the film, featuring a panoramic view of the United States from the nose of a B-25 bomber plane
Cinerama Everywhere - A French-produced short on the Cinerama tent shows in Europe
Tribute to the New Neon Movies - A short film celebrating an Ohio theater where a projectionist revived Cinerama through special screenings for people from all over the country
Radio Interview with Cinerama Creator, Fred Waller - Recorded on the eve of opening night
This is Cinerama Trailer - Updated recreation of theatrical trailer with newly-restored clips
Cinerama Returns to the Cinerama Dome (2002 Announcement Trailer) - Promotional short for the 50th anniversary of Cinerama and its return to the fabled Cinerama Dome in Hollywood
"Breakdown Reel" - Footage originally projected interstitially during Cinerama interruptions
TV Spots - Original television ads for This Is Cinerama and Seven Wonders of the World.