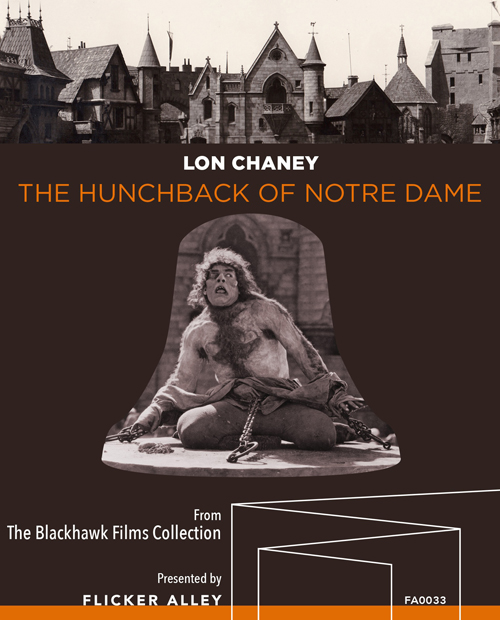 1923 / USA / 112 minutes
B&W / Drama / 1.33
FA 6784 Blu-ray
UPC: 617311678493
ISBN: 1-893967-84-0
Available: Mar. 11, 2014
Bonus Features Include:
• Audio commentary track with Chaney scholar and professional make-up artist
Michael Blake
• Rare behind-the-scenes footage with Lon Chaney out of makeup on the
Cathedral set (1:40)
• ALAS AND ALACK (short one-reel film from 1939 in which Chaney plays a hunchback) (13:17)
• Dynamic HD photo gallery with over 50 original production and publicity stills
• Essay by Chaney scholar and professional make-up artist Michael Blake
Order now!

The Hunchback of Notre Dame
For years film historians have accepted the legend that Irving Thalberg, who was in charge of production at Universal Studios in the early 1920s, was the driving force behind the production of The Hunchback of Notre Dame. But in reality, the idea of making the film was not Thalberg's but Lon Chaney's.
The Hunchback of Notre Dame is a huge production: the sets depicting 15th-century Paris covered nineteen acres of Universal Pictures' back lot and included the façade of Notre Dame Cathedral. Filming took six months and the climactic sequence employed two thousand extras, but it's Lon Chaney's performance that makes the character unforgettable. The Hunchback of Notre Dame premiered at New York's Astor Theatre on September 2, 1923. The success of the film was immediate; it made Carl Laemmle and Universal Pictures a fortune, and turned Lon Chaney into a screen legend.
This edition is mastered from a multi-tinted 16mm print struck in 1926 from the original camera negative. (The film apparently does not survive in 35mm). Visible wear in the source material is diminished with a moderate amount of digital restoration. It is pictorially much better than earlier video editions and seems to represent the best condition in which this landmark film survives today. A new symphonic score arranged by Donald Hunsberger was recorded in the Czech Republic by full orchestra conducted by Robert Israel.