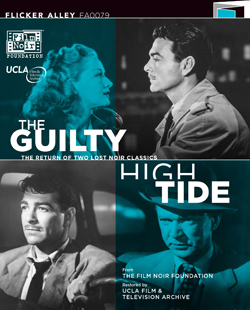 FA 6879
Format: Blu-ray/DVD Combo

Region: ABC/0
Featuring: Don Castle, Bonita Granville, Lee Tracy
Director: John Reinhardt

Year: 1947

Language: English

Length: 143 minutes

UPC: 617311687990

Available: Jun 7, 2022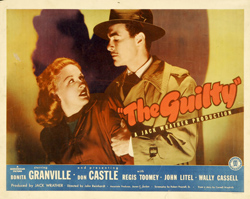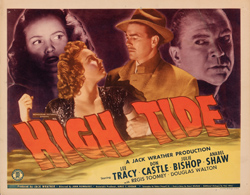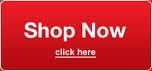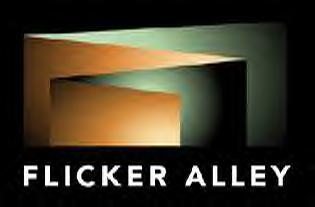 The Guilty (1947)

The Guilty, released by Monogram Pictures, is a triumph of resourcefulness for its nomadic Viennese director, John Reinhardt. Based on a short story by legendary suspense writer Cornell Woolrich, this little-seen B movie centers on war veterans Mike Carr (Don Castle) and Johnny Dixon (Wally Cassell), roommates in a low-rent tenement. They are romantically entangled with twin sisters Estelle and Linda Mitchell (Bonita Granville, in a dual role). When one sister turns up dead, the boys are hounded by a suspicious police inspector (Regis Toomey)—although there's no shortage of suspects. Working on only three sets, with a shoestring budget, Reinhardt and director of photography Henry Sharp evoke the dreadful, dead-of-night ambiance that was the domain of the era's most prolific noir scribe, Cornell Woolrich.
Thanks to the dedication of the Film Noir Foundation, The Guilty has been restored from a 35mm nitrate composite fine-grain master by UCLA Film & Television Archive, and is now presented in this world-premiere edition.
High Tide (1947)
This forgotten noir, set in a spectacularly corrupt Los Angeles, is a crackling crime thriller rescued thanks to the combined efforts of the Film Noir Foundation, UCLA Film & Television Archive, and the British Film Institute. The action gets rolling with one of the greatest framing gimmicks in noir: a speeding car crashes onto a rocky shoreline and its occupants, newspaper editor Hugh Fresney (Lee Tracy) and private eye Tim Slade (Don Castle) recount the plot as the rising tide threatens to drown them. In flashback, we learn that Slade was brought in by muckraking editor Fresney as protection against a mobster (Anthony Warde) his paper is investigating. Things quickly get complicated as Fresney's boss has a wife (Julia Bishop) eager to resume a smoldering romance with Slade. When a main character gets iced early, everybody becomes a suspect, and the double-crosses start multiplying at a breakneck pace.
High Tide was the second of two crime thrillers independently produced in 1947 by Texas oil tycoon Jack Wrather. It carries over from The Guilty the same screenwriter and cameraman, the same protagonist in actor Don Castle, and the same director, John Reinhardt, whose playful inventiveness enlivened several post-WW II films noir.
Bonus Materials Include:
A Special Kind of Partnership: Jack Wrather, Bonita Granville, and Don Castle – An illuminating look at the personal and professional relationships of Jack Wrather, Bonita Granville, and Don Castle, featuring interviews with Chris Wrather, Gretchen (Castle) Bernfeld, and others.
"Welcome to My Nightmare" – a short documentary exploring the life and work of Cornell Woolrich, featuring publishing legend Otto Penzler, Charles ("Hard Case Crime") Ardai, and Woolrich's biographer Francis M. Nevins.
John Reinhardt: The Viennese Auteur of Poverty Row – A documentary featuring interviews with critic Dave Kehr, film historian and lecturer Maria Elena de las Carreras, former child actor Gordon Gebert, and writer and cinema historian Alan K. Rode.
Audio Commentary for The Guilty – by prize-winning noir author and film studies instructor Jake Hinkson.
Audio Commentary for High Tide – by film historian and biographer Alan K. Rode.
Souvenir Booklet – containing an essay by Eddie Muller and a wealth of fabulous ephemera, including posters, lobby cards, and stills from both films.