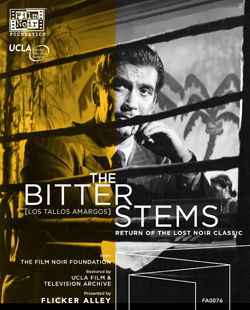 FA 6876
Format: Blu-ray/DVD Combo

Region: ABC

Director: Fernando Ayala
Featuring: Carlos Cores, Vassili Lambrinos

Year: 1956

Language: Spanish
Subtitles: English

Length: 90 minutes

UPC: 617311687693

Available: Nov 16, 2021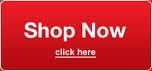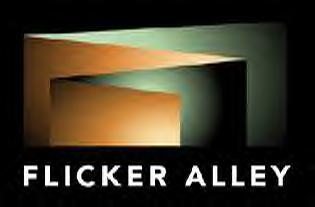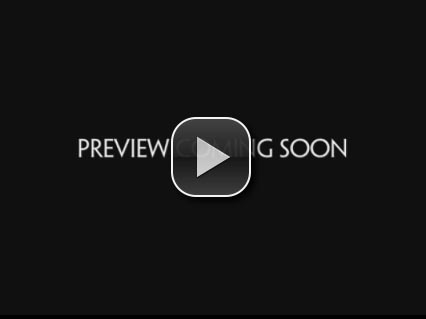 The Bitter Stems (Los tallos amargos)

This rarely seen 1956 film was lauded in its day but only recently rediscovered, hidden away in a private collector's home outside Buenos Aires. Thanks to the diligent efforts of the Film Noir Foundation and Argentine cinephile Fernando Martín Peña, a gorgeous new print of The Bitter Stems (Los tallos amargos) was created, by the UCLA Film & Television Archive, from the reconditioned original negative, now presented in its first ever home video release–with special thanks to the Hollywood Foreign Press Association's Charitable Trust.
Alfredo Gasper, a dissatisfied Buenos Aires newspaperman (Carlos Cores), partners with Paar Liudas, a clever Hungarian refugee (Vassili Lambrinos) who needs money to bring his family from Argentina. Together they create a bogus correspondence school, exploiting the hopes of would-be journalists. As their scheme succeeds beyond their wildest dreams, a mystery woman from Liudas' past sparks Gasper's suspicion: his charming colleague may be playing him for a sucker. Soon Gasper finds himself plotting the perfect crime – but fate has many twists in store.
This adaptation of journalist Adolfo Jasca's award winning novel was acclaimed upon its release, earning top prizes in 1957 from the Argentine critics association for Best Picture, with Fernando Ayala named Best Director. American Cinematographer magazine listed Los Tallos Amargos #49 on its roster of the 100 Best Photographed Films of All-Time. The innovative and evocative score, combining elements of tango, jazz, and classical music, is one of the first film scores by legendary composer Astor Piazolla. After more than 60 years in darkness, The Bitter Stems (Los tallos amargos) is finally restored and ready for rediscovery.
Bonus Materials Include:
Introduction to The Bitter Stems (Los tallos amargos) – By author, historian, and "noirchaeologist" Eddie Muller.
New In Depth Conversation – With Argentine film archivist and historian Fernando Peña.
Profile of Legendary Composer Astor Piazolla – By film historian Steven Smith.
Audio Commentary Track – By author and film historian Imogen Sara Smith.
Souvenir Booklet – Featuring rare original photographs, posters, lobby cards, and advertisements, along with an essay by film historian and lecturer, María Elena de las Carreras.