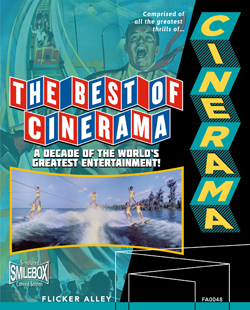 FA 6798
Format: Blu-ray/DVD

Region: All

Director: Robert L. Bendick, Phillipe De Lacy, Carl Dudley, Richard Goldstone, Francis D. Lyon, Walter Thompson, Basil Wrangell, Tay Garnett, Paul Mantz, Andrew Marton, Ted Tetzlaff, Otto Lang
Featuring: Lowell Thomas

Year: 1962

Language: English

Length: 143 minutes

UPC: 617311679896

Available: Nov 22, 2016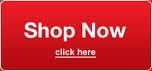 More Cinerama: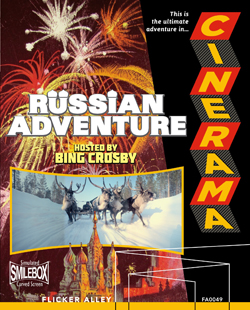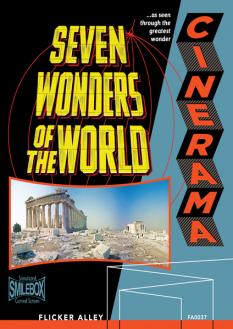 The Best of Cinerama (1962)

The Best of Cinerama is comprised of all the greatest thrills of Cinerama, from the breathtaking roller coaster ride to the visit to La Scala, Milan, for Aida; from the hurtling bobsled run, to the stirring dances of the African Watusis. Made up of over 20 such exciting highlights, the film is not only an historic compilation, but also a stand-alone "thrill-a-minute" experience.
The adventure begins with the Sabre jet precision flying team from Search For Paradise, and then whirls back to the iconic roller coaster sequence from This is Cinerama! – newly restored for this release. From there, the three-panel journey goes global, showcasing some of the rich and exotic locales of Cinerama Holiday, South Seas Adventure and Seven Wonders of the World. There's the Marian Year Celebration at St. Peter's Square in Rome, featuring the first commercial motion-picture footage of Pope Pius XII. There's the boat trip down the Ganges River at Benares. There are visits to Paris, Vienna, Athens, India, Brazil, Japan, Africa, Israel, and New Orleans, all in one spectacular Cinerama presentation.

Bonus Materials Include:
Feature Length Audio Commentary: With Cinerama historian David Coles.
Shellarama (1965): Shot in Super-Technirama and released on 70mm, this Shell-produced short follows the journey of Shell oil from raw source to refined fuel.
Bridge to Space (1968): A 70mm short documentary shot on Merritt Island and at Cape Canaveral.
"The Rangerettes": Deleted scene from Seven Wonders of the World featuring Kilgore College Rangerettes.
"Battleship Iowa Arrives in San Pedro": A Cinerama short film shot in 2012.
"Reconstructing The Best of Cinerama": A restoration demonstration with Dave Strohmaier
"Cinerama Troika": Interview with the principles behind Cinerama travelogue restorations (Blu-ray only).
"Remembering The Best of Cinerama": Interview with Norman Karlin, Cinerama editor (Blu-ray only).
Slideshows: "Who's Who in Cinerama History"; "Show Places of the 1950s"; and more! (Blu-ray only).
The Best of Cinerama Trailer: Theatrical trailer
Program Booklet: A facsimile representation of the original program booklet.