"This melodrama shares a sophisticated visual acuity with Murnau's more famous NOSFERATU..."
-Entertainment Weekly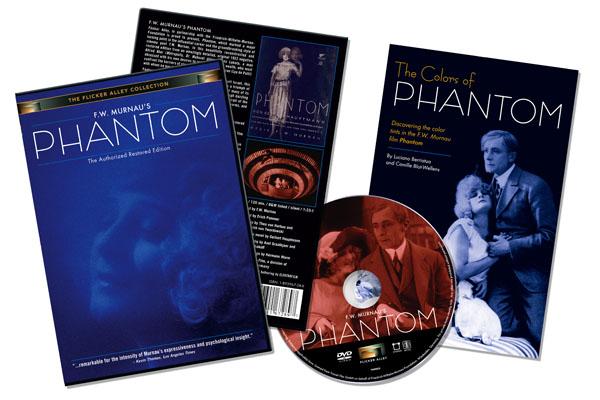 PHANTOM - DVD Deluxe Edition

Flicker Alley, in partnership with the Friedrich-Wilhelm-Murnau-Foundation is proud to present, Phantom, which marked a major turning point in the influential career and the groundbreaking style of cinema poet F.W. Murnau. In this beautifully reconstructed and restored edition from an amazingly detailed, original 1922 negative, Alfred Abel (Metropolis, Dr. Mabuse) plays Lorenz Lubota, a man obsessed with his own desires to achieve fame and wealth, who must confront the barriers of class keeping him from a woman (Lya de Putti) with whom he has had a fateful encounter.

Featuring a magnificent new orchestral score by Robert Israel, this powerfully expressive and surprisingly insightful film is a triumph of German Weimar cinema and a wonderful collaboration of many of its most skilled artisans and recognizable performers. Through dazzling visuals and memorable characters, Phantom paints a portrait of the corrupting influence of money, the conformity of societal norms, and the redemptive power of family.


DVD FEATURES:

· A beautiful new, speed-corrected NTSC film transfer, restored with original tints

· A new, digitally recorded orchestral score by renowned silent film composer Robert Israel

· A new, English language edition of the film prepared in collaboration with the Friedrich-Wilhelm-Murnau-Foundation, Wiesbaden, Germany


SPECIAL BONUS FEATURES:

· Invitation To Phantom – A new 15 minute examination of the artistry and production history of Phantom by UCLA film historian Janet Bergstrom

· The Colors of Phantom – Film restoration experts Luciano Berriatúa and Camille Blot-Wellens discuss their process for color tint identification and restoration in a 12-page booklet essay

· Cast and Crew Biographies – Over 80 pages of biographical information and unique photographs of the major performers and technicians involved with the film

· Special Documents Gallery – A unique image gallery containing many rare and never-before-seen historical documents (Special thank you to Werner Sudendorf, the Filmmuseum Berlin, and Deutsches Filminstitut)

DVD

1922

UPC: 6-17311-67289-7
ISBN: 1-893967-28-X

The 2008 Willy Haas Award Winner!