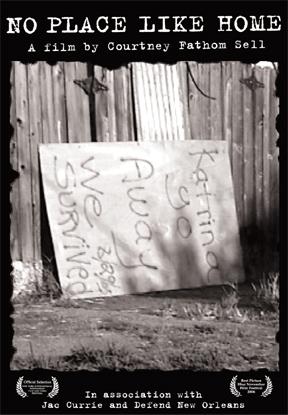 EEG 6736
Director: Courtney Fathom Sell
Producers: Courtney Fathom Sell & Jac Currie
50 min. b/w
Docu/Drama
Slumlord Productions

DVD Features:
•Director Bio
•Behind the Scenes Trivia
•Theatrical trailer
•Still photo gallery
•Defend New Orleans Information
UPC: 617311673696
ISBN: 1-893967-36-0

No Place Like Home
A Film by Courtney Fathom Sell
Filmed in roughly one month between the end of October and the beginning of December 2005, Courtney Sell's film is an honest portrayal of Jac Currie's life after Katrina and one of his first trips back to the Gulf Coast after being stranded in New York.
It shows Defend New Orleans' transition to a valid social aid project and documents some of the destruction in New Orleans and on the Mississippi Gulf Coast.
Shot entirely on a handheld hi-8 video camera, No Place Like Home, features a moving soundtrack made by musicians personally connected with the subjects and interviews with friends who survived Katrina in New Orleans
The film won best picture at the Blue November Film Festival in 2006 and was featured in the New York International Independent Film and Video Festival in 2007.
"No Place Like Home became something of an indie film fest darling, and the exposure has no doubt helped give the Defend New Orleans project a shot in the arm. Courtney Fathom Sell may just have been 20 when he shot his friend walking and talking, but the doc itself moves with a very relaxed flow. The use of some of the filmmaker's musician friends really enhance the local flavor, and lend the right kind of underground cool to it all." - Digitally Obsessed