Award winning Singer-Storyteller Amy Lowe's story of the settling of a small Midwest farm town and its growth into one of Illinois' largest communities.

The struggles for survival, the determination of its people, and the hope for their children's futures, represents one of our nation's early spirited stories.

Package includes a deluxe 28-page booklet with complete lyrics and historical photographs!
"A solid addition to school and public libraries"
- School Library Journal, January 2007

Movin' In, Building A Town
The Story of Naperville
TRACKS:
1. Movin' In, Building A Town
2. Ocean of Prairie Grass
3. Captain Joseph Naper
4. The Arrival
5. Bugs, Bugs, Bugs
6. The First Schoolmaster
7. The Blacksmith
8. Fences and Promises Broken
9. Caroline Strong's Letter
10. The Pre-Emption House
11. Halfway House
12. Lyman Goodnow's Story
13. Delta Slide Guitar
14. Paw Paw Post Office
15. Judge Murray
16. Snap Snap, Chop Chop, Saw Saw
17. Pay The Toll
18. Sponge the Grunge
19. Dr. Daniel's Remedies
20. Ring the Bell
21. Caroline Martin Mitchell
Shop CD:
CD

Children

UPC: 6-17311-50302-3
ISBN: 1-893967-30-1

July 4, 2006
for more info visit: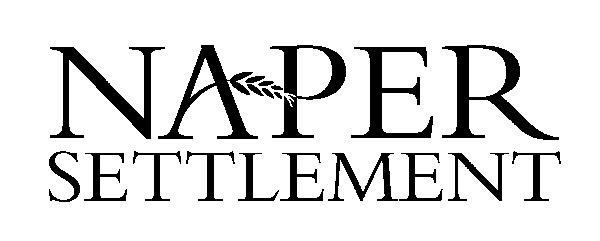 NaperSettlement.org