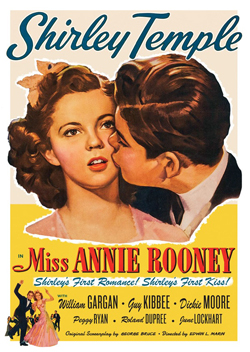 CF 0002
Featuring: Shirley Temple, William Gargan, Guy Kibbee, Dickie Moore, Peggy Ryan, Roland Dupree, Gloria Holden, Jonathan Hale. Mary Field, June Lockhart, Byron Foulger
Director: Edwin L. Marin

Year: 1942

Language: English

Length: 86 minutes


Blu-ray
UPC: 851968007033


DVD
UPC: 851968007019
Miss Annie Rooney Trailer (1942)
Newly transferred and restored.
First time on Blu-ray & DVD.

Its spring in the Rooney household, and starry-eyed Annie dreams of blossoming love. Her father dreams of something more tangible -- to be parked on easy street. But in their working-class Irish neighborhood, the odds are against them both.
Shirley Temple stars in the title role of Miss Annie Rooney and displays all the endearing charms that made her America's little sweetheart. Along the way, Annie jitterbugs a path straight into the heart of Marty (Our Gang alum Dickie Moore) who may fulfill the hopes of both Annie and her father.
Co-starring William Gargan and Shirley's Captain January co-star Guy Kibbee, and featuring Peggy Ryan, Roland Dupree and June Lockhart, Miss Annie Rooney is a fun, heart-warming treat that all Shirley Temple fans will enjoy!
Region: USA/Canada
Available: Apr 4, 2017