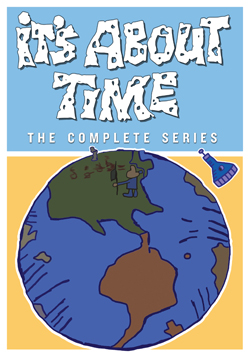 CF 0004
Featuring: Frank Aletter, Jack Mullaney, Joe E. Ross, Imogene Coca
Created by: Sherwood Schwartz

Year: 1966/1967

Language: English

Length: 650 minutes



UPC: 851968007088
It's About Time (1966/1967)
The Complete Series (26 Episodes on 4 discs)
First time on DVD!

"It's about time. It's about space. About two men in the strangest place". Those catchy opening lines to the iconic theme song for IT'S ABOUT TIME primed Baby Boomers every Sunday night during the 1966 television season for a series unlike any other.
Created and produced by Sherwood Schwartz (Gilligan's Island, The Brady Bunch) the time travel comedy stars Frank Alittle as Mac and Jack Mullaney as Hec, two astronauts who find themselves in prehistoric times after breaking the time barrier. Soon after landing, they meet Gronk (Joe E. Ross, Car 54 - Where are you?) and Shad (Imogene Coca, Your Show of Shows) two friendly cave people who find the ways of those from "the other side of the hill" strange but interesting.
BONUS FEATURE: Interview with Pat Cardi who played "Breer" on It's About Time.
Authorized Terriory: USA & Canada
Available: June 27, 2017