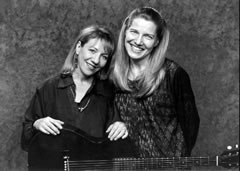 Amy Lowe & Megan Wells
Amy Lowe: Writer, Singer, Guitarist.
Megan Wells:Writer, Actress, Storyteller.
Both acclaimed artists in their respected fields, Amy Lowe & Megan Wells have teamed to create one entertaining and educational experience.
"The duo brings to life various personae..."
-Illinois Entertainer Magazine

---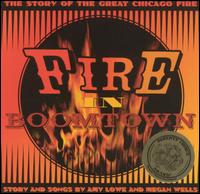 Fire In Boomtown
The Story of the Great Chicago Fire

A 1999 WINNER of the
PARENTS' CHOICE GOLD AWARD!


The 1999 WINNER of the EdPress
Distinguished Achievement Award!
Los Angeles Times
"With poignant testimony from eyewitnesses and vivid songs, Amy Lowe and Megan Wells bring to life a city that grew too fast, with dangerously little planning; the chilling song "Mud, Wood, Drought, Blunder & Wind," tells of what contributed to the devastating tragedy."
Chicago Parent Magazine
"Judging from the response of the rapt audience to Fire In Boomtown, Lowe and Wells have a hit."
Booklist
"On Sunday, October 8, 1871, the city of Chicago was virtually destroyed by a ferocious fire. This story-song re-enactment was taped in a live performance. The performers researched actual testimonials from survivors and newspaper articles, letters, notebooks, etc., to make an exciting story that stays true to the facts. Wells does a fine job of creating Mrs. O'Leary's Irish brogue and characterizing the chief fire marshall's description of exhausted firemen. The storytellers conclude by celebrating the energetic rebuilding of the city. A first-class history lesson in an appealing format"


Recommended Audience: Ages 8 to Adult
Compact Disc

UPC: 617311500121
ISBN: 0-9660947-1-9

Featured on PBS Radio's - "Recess"