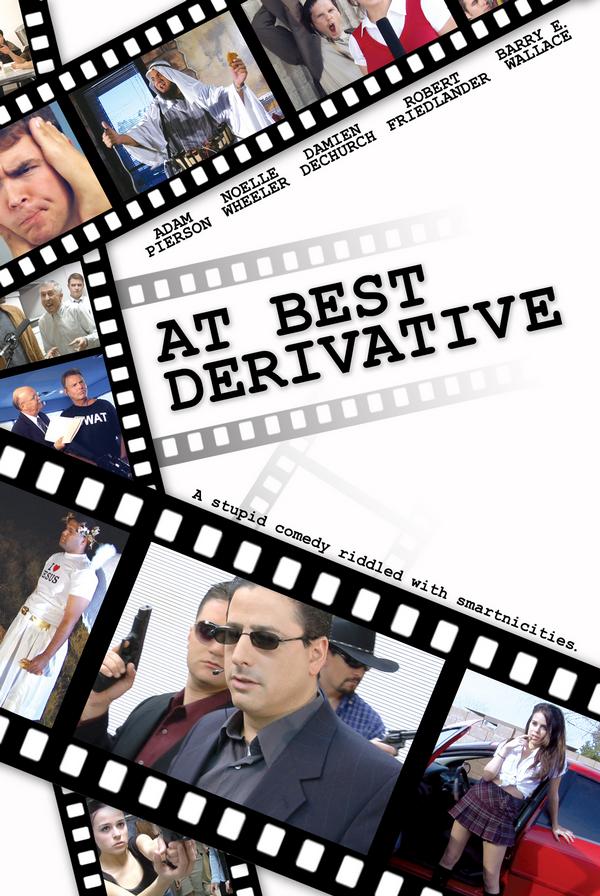 A band of fledgling criminals plan to sell the story/movie rights to a crime they have yet to commit.
True crime is big nowadays. Nobody knows that better than the truest of criminals, Waffle House, and his band of ill-to-doers who have a plan to knock off the local bank on spec. All they need is an inside man, Edwin Sage, to help iron out a few of the details.
Edwin, an aspiring screenwriter/bank teller, is happy to help, especially because he thinks the group's front man is a rep from Minimax looking for creative advice on how to make a big screen robbery look "real". Everyone is blissful in their ignorance until Edwin, a tinge insecure about his ability to deliver, consults his cousin, and head of the local anti-robbery task force, Max Heavy.
Oppressed by the disdain of his social circle, the sheer listlessness of his existence, and enough script "how-to" literary principles to fill the vault he'll probably die in, Edwin is not only a failure, he's an accessory.
At Best Derivative is a self-conscious farce comedy that sets out to prove that it is always best to be yourself, even when "yourself" is a pathetic loser with no chance at any real accomplishment.
At Best Derivative
(2-DVD Special Edition)
FEATURING: Adam Pierson, Noelle Wheeler, Damien Dechurch,
Robert Friedlander and Barry E. Wallace
with Charles Ciarametaro, Greg Attaway, Damon Daniels,
Dion Wade, Daniel Terraros and John Schile
Director of Photography Chuck Harding, Makeup/Costume by Jana Pierson
Written by Jeremy K. Clayton
Produced by Ryan Pierson & Jeremy K. Clyton
Edited & Directed by Ryan Pierson
© 2009 Friar's Lantern
English Language / Color / Widescreen Screen
120 minutes / Not Rated

Special Features:
• Deleted Scenes
• Extended Scenes
• Outtakes
• A crazy "DVD disclaimer"
• The full audio scene of "Cyborg Baby", performed by various cast/crew members
• Full length feature commentary with Ryan Pierson and Jeremy K. Clayton
• Cast/Crew Interviews