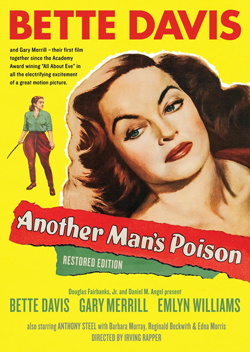 CF 0001
Featuring: Bette Davis, Gary Merrill, Emlyn Williams, Anthony Steel, Barbara Murray, Edna Morris, Reginald Beckwith
Director: Irving Rapper

Year: 1951

Language: English

Length: 90 minutes


Blu-ray
UPC: 851968007026


DVD
UPC: 851968007002
Another Man's Poison Trailer (1951)
Newly transferred and restored.
First time on Blu-Ray!

In her first role since starring as Margo Channing in the Academy Award®-winning All About Eve (Best Picture, 1950), Bette Davis plays mystery writer Janet Frobisher, a cold and conniving woman who will stop at nothing to get what she wants -- and what she wants at the moment is her secretary's fiancé Larry (Anthony Steel).
But Janet's plan hits a snag when her estranged husband shows up unannounced after attempting to rob a bank. Her husband's partner in crime, George (played by real-life husband Gary Merrill), further complicates matters for Janet when he pays her a visit later the same day. Getting rid of one of them proved easy. The other, not so much.
Filmed in England and co-produced by Douglas Fairbanks, Jr., Another Man's Poison presents the dynamic Bette Davis at her devious and beguiling best.
Region: USA
Available: Mar 28, 2017